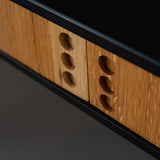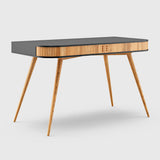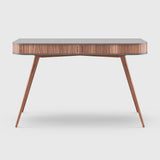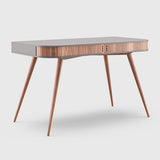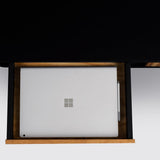 Whether you are a workaholic, a creative soul, or both, work can be inspiring and fulfilling, and your workspace should reflect this.

Your workspace is an integral, and often overlooked, part of your work situation; it should be comfortable and induce productivity. Presenting: The Desk – a piece of work furniture designed to keep you focused.
With smooth surfaces and a delicious sliding door that reveals two drawers for hiding away papers and clutter, it stands at the perfect height for your work needs. It is optimized for both laptops and multi-monitor setups, and the cable management tray in the back is fit to house docking stations, hubs and power supplies.

No office looks the same, and all work situations are different, so this piece is completely customizable. This is a Desk that will follow you into the future, so it is of great importance that we can make it work for both your current setup and the setup of your dreams.

Every part and piece of The Desk is handmade to the highest standard in our shop, and carefully finished, wrapped and packaged before it is sent to your door.
Every part of this piece is customizable, and it is of great importance that your desk is made both for your current setup and also keeping it future proof.
Length: 120cm (47.2in). 
Cabinet height: 10cm (3.9in).
Depth: 60cm (23.6in).
Total height: 73cm (28.7in).
 Please allow around eight weeks for your Desk to be made.
The Desk is made using only sustainable materials in a zero-waste shop running on renewable energy, packed and shipped in environmentally friendly packaging.