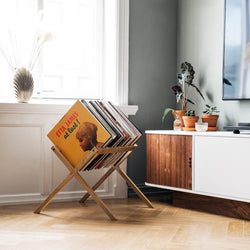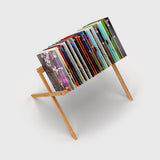 In stock!
Keep your record collection feeling fresh by swapping out your favourite records with the changing moods and seasons.

Each album gets its own slot in The Vinyl Stand. This gives the albums, and in turn the covers, space to shine, and it gives you easy access to all your favourite tunes. The Vinyl Stand is perfect for those high circulation records that need to be proudly displayed as their own design pieces. And when a new favourite makes the cut, you can easily swap out one of your old ones, keeping your collection a reflection of yourself. 
The stand can hold up to 30 12" vinyl records, and the slots are adapted for various cover thicknesses. 
The Vinyl Stand is handmade to the highest standard of attention to detail, as well as material selection and finish. 
Height: 42cm (16.5 in.)
Depth: 56cm (22 in.)
Width: 59 cm (23.2 in.)
In limited stock.
The Vinyl Stand is made using only sustainable materials in a zero-waste shop running on renewable energy, packed and shipped in environmentally friendly packaging.
The Vinyl Stand requires assembly, and you`ll receive detailed assembly instructions upon delivery. 
Physical dimensions (millimeters)
 How is it shipped?