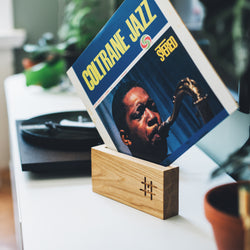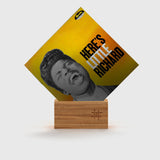 In stock!
Need a place to display that beautiful cover art while your favourite record is spinning?
The Vinyl Stand, Single may be the smallest piece in The Vinyl Collection, but it truly is the one that ties the collection together. Handmade and sleek, it is the perfect companion to your record collection, giving your favourite cover art the attention it deserves. 
The Vinyl Stand, Single is handmade to the highest standard of attention to detail, as well as material selection and finish.
Height: 10cm (3.9 in.)
Width: 20cm (7.8 in.)
Thickness: 5cm (1.9 in.)
Max album thickness: 10mm (0.4 in.)
The Vinyl Stand is made using only sustainable materials in a zero-waste shop running on renewable energy, packed and shipped in environmentally friendly packaging.
The Vinyl Stand, single requires no assembly. It`s ready to go!