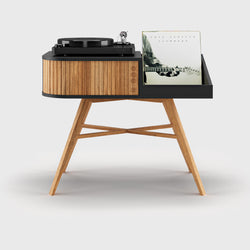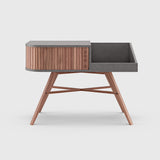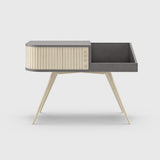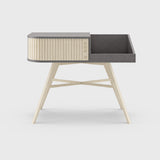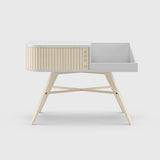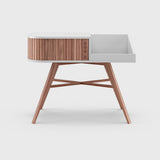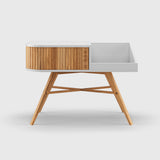 With space on top to showcase your record player, The Vinyl Table, Single is a clean and modern piece that blends in when it needs to and stands out when it wants to. It is sure to catch some eyes and turn some heads.

The right-side storage compartment can house about a hundred records, and your amplifier (or other general clutter) can find a home behind that smooth, sliding tambour door.

Handmade to the highest standards, The Vinyl Table is a sturdy, lasting, elegant and timeless design piece.
Length: 85.4cm (33.6in). 
Height: 20cm (7.87in).
Depth: 45cm (17.7in).
Total height: 60cm (23.6in).
Please allow around eight weeks for your Vinyl Table, Single to be made.
New and improved cable management clips added to safely route wires and keep things tidy. There are three clips inside the cabinet.
"Simple, finely-crafted and timeless, the Vinyl Table is bound to capture not only your attention but your heart, allowing you to give your records the royal treatment they deserve. It is not a piece of furniture, but an experience providing you with an opportunity to worship all things vinyl!".
- Yanko Design, October 2019
Featured in Design Milk, Yanko Design, Elle Spain, La Vanguardia, Uncrate, HiConsumption, Cool Material, ImBoldn, DesignBunker, P.Roduct, Exame, DL Mag, Man Of Many, Contemporist and many more.
The Vinyl Table, Single is made using only sustainable materials in a zero-waste shop running on renewable energy, packed and shipped in environmentally friendly packaging.
Let`s be honest. Looks and feel is of great importance in our surroundings. Record players, amplifiers, cables, records and other gear has the tendency to clutter up any room. The Vinyl Table offers the perfect solution for a tidy setup. With storage space for around 200 12" inch LPs, a cabinet part to place your receiver or amplifier and a platform to place your deck. The backside of the cabinet has two 60mm holes for cable management to ensure that your setup looks clean at all times. Inside the cabinet there are three in-house 3d-printed cable clips to help organize the wiring.
Custom color/material combinations are possible, but please send us an email before ordering.
Resting on either the Spider Legs or the Pencil legs at that sweet 25 degree splay, it simply looks delicious from all angles - whether you put it up against a wall or in the middle of the room. It`s sturdy enough to be danced on - although your vinyl collection might not appreciate it.
The Vinyl Table ships partially assembled. The cabinet part is fully assembled, so the base is the only thing that needs some elbow grease. Don`t worry - it is incredibly easy. Well before you receive your table, you`ll receive a thorough instruction manual via email. And if that does not cut it, we are here to help at any time! 
Physical dimensions (millimeters)
Cabinet inside measurements (millimeters)