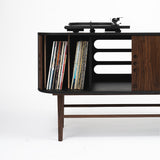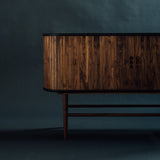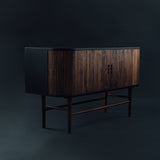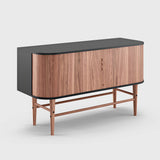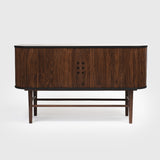 Exciting news in a blast from the past. The Console is a media console that embodies the timelessness of style, with great storage, cable management opportunities, smooth sliding doors and a unique look.
When designing this piece, we looked to the classic credenzas of the past and brought them into this day and age. The Console soothes your nostalgic needs and fuels your future-oriented dreams. The solid wood tambour doors are a joy to slide open, to reveal an easily modifiable interior. It is the perfect space for de-cluttering and organizing all your stray cables, gaming consoles and other units.

As it stands in your living room, resting on four tapered pencil legs reinforced with cross braces, it is the image of sturdy design and elegance, the past and present combined.

Every part and piece of The Console is handmade to the highest standard in the HRDL shop, and carefully finished, wrapped and packaged before it is sent to your door. Some assembly is required once you receive your Console.


Changes have been made to The Console to improve its functionality. The back panel is now inset 20mm to give more room for wiring. 
In addition to the three clips attached to the cabinet back, there are two more supplied with the piece that can be mounted at any position.
Length: 120cm (47.2in).
Height: 38cm (15in)
Depth: 47cm (17.7in).
Total height: 70cm (27.5in)

Please allow around eight weeks for your Console to be made. 
The Console is made using only sustainable materials in a zero-waste shop running on renewable energy, packed and shipped in environmentally friendly packaging.
The Console ships partially assembled. The cabinet part is fully assembled, so the base is the only thing that needs some elbow grease. Don`t worry - it is incredibly easy. Well before you receive your table, you`ll receive a thorough instruction manual via email. And if that does not cut it, we are here to help at any time! 
The Console can be modified and customized to your needs. If you have special wishes for color/material combinations, cable management, venting or other inquiries, please send us an email.
Physical dimensions (millimeters)

Cabinet inside layout