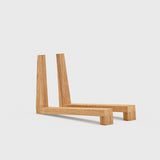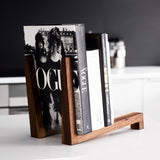 Books can be displayed just as well as records can!

Give your favourite books the attention they deserve. The Book Stand makes a proper display out of your books, showing your favourites off to the world. Whether you want to give some extra attention to your coffee table books, those sleek document folders or your trusty records on your media console, The Book Stand is a sleek and elegant companion. 
The Book Stand is handmade to the highest standard of attention to detail, as well as material selection and finish. 
Height: 25cm (9.8 in.)


Depth: 32cm (12.5 in.)




Width: 4cm (1.5 in.) per piece
Please allow two weeks for your Book Stand to be made. 
The Book Stand is made using only sustainable materials in a zero-waste shop running on renewable energy, packed and shipped in environmentally friendly packaging.