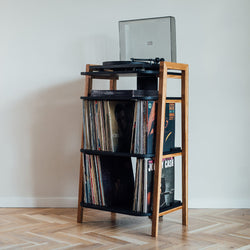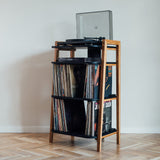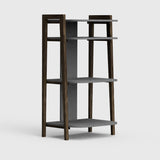 The Vinyl Shelf is designed to be the more space effective and minimalistic unit in the collection.

With a sleek and elegantly splayed solid wood frame, it will carry any weight you need it to. There are four surface levels, where the bottom two are meant for record storage and the upper two are tailored for turntable and amp/receiver. All levels are removable in case you want to adapt it to your needs.

Although it may look minimalistic, The Vinyl Shelf offers a lot of neat features that makes it a joy to use; special removable brackets to keep the stack of records aligned and in place - while not hiding them away. 3d-printed cable clips to keep cables well managed and out of sight. The inset back plate lets you place the piece right up to the wall.

The Vinyl Shelf is made using only sustainable materials in a zero-waste shop running on renewable energy, packed and shipped in environmentally friendly packaging.

Width 60cm / 47.2in

Shelf width 54cm / 21.25in

Total height: 105cm / 41.3in

Depth: 45cm / 17.7in

Weight: 18-19kg depending on wood species.